Riding Lessons
Our riding lessons are designed to provide riders with a complete horse experience. From safety around horses, to grooming, leading, and riding, our riders learns all aspects of caring for a horse as well as how to ride.
Rider progress from one level to another following our uniquely designed sixteen level riding skill progression. Rider progress as their own rate based on their comfort level with the horse, their skills, and abilities.
A typical class consists of grooming, leading, riding, vocabulary, and treats for the horse.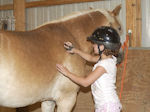 Grooming Leslie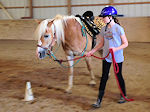 Leading Buttercup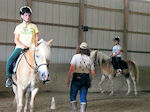 Intermediate Riders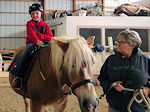 Lead Line Lesson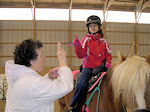 Learning a part of the horse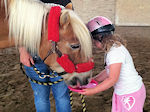 Giving Stella a treat
Riders are placed with other riders at the same riding level. Class size never exceeds four riders.
Request more information by email or call 248.634.7276 to schedule a visit.
Riding lessons make a great gift! Click here to purchase one or more Gift Certificates.