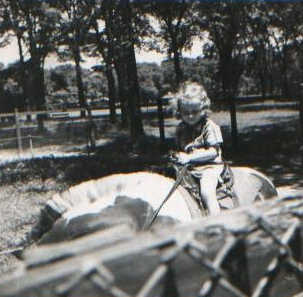 Every child has a dream...And Ms. Linda was no different.
She dreamt of riding ponies, of owning horses, and being with them whenever she wanted to.
But
Growing up in Detroit on a small, city lot meant she had to put that dream on hold, even though she constantly begged her parents for a horse.
Eventually, Ms. Linda was able to take riding lessons as an adult and loved it!
When that riding facility closed, she started volunteering at a local therapeutic riding facility and saw the difference horses made in the lives of these children.
It was here that the dream of owning her own ponies was transformed into providing safe, enjoyable horseback riding lessons for all children of all abilities.
In 2003, Pretty Pony Pastures accepted their first riders. Every year over 200 children are able to experience their first ride. These include therapeutic and typical riders as well as Scouts and other youth groups who visit the facility.
Haflingers are our breed of choice because of their size, disposition, and wilingness to please.
We were looking for a horse that would not intimidate a child. But don't let their size fool you. Our horses might be pony-size but they are strong enough to carry a rider up to 200 pounds.
They tolerate the high energy level of children, are at ease with the decorations we put up for the holidays, and always keep a steady gait whether being ridden, driven, or halter led.
All of our horses must meet rigorous standards before they are put into the program.
50 Blades of Hay was published in 2018. This book highlights the stories of our riders, volunteers, and horses that have been part of our facility for the past 15+ years. Click the book to order.